My New Auntie J Doll has arrived Oct 28, 2003 Please see the New Auntie J Doll located on my Catalog Page.
Also Brand New at the end of the Catalog Page is My New African Doll, specially made for Mrs. C. Mitchell in Tallahassee, FL.
Please Note: Doll Dresses and Hats will be in coordinating print. Sometimes materials may vary slightly due to what's available at the fabic shops.
Special Upholstery Orders - Additional Charges of Twenty Dollars when ordering My New Upholstery Decor Dolls. I will need you to provide approximately 4 yards of material to match your Home Decor, which can be sent to the following address:
M M Shields
5116 Ruthenia Road
Tallahassee, Florida 32305
Please see my New Upholstery Doll, along with my new Auntie J
and New African Doll located on my Catalog Page.
Please Be Sure and Sign My Guestbook

Wishing Everyone A Very Happy 2007 New Year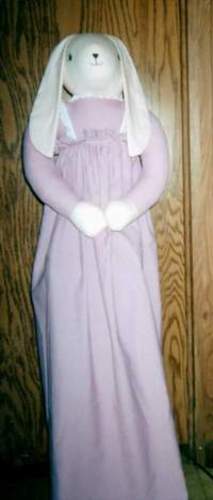 Country Pink Bunny $99.00